A compilation of recent top articles and reports related to issues of U.S. immigration and enforcement policy and migration from Central America and Mexico (articles in English and Spanish). Please feel free to send us recommendations or requests for upcoming news briefs: lalvarez@lawg.org.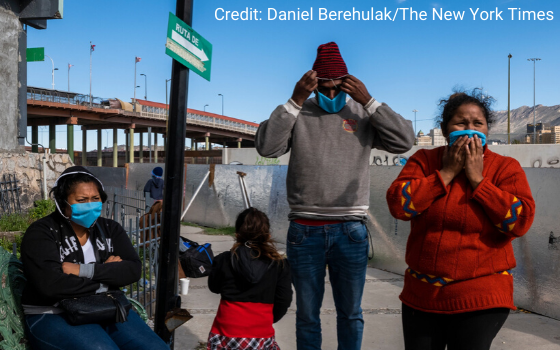 Spotlight
COVID-19: Stop the asylum ban & deportations!
Latin America Working Group, March 24, 2020
"Join us in calling on the administration to stop sending asylum seekers to danger, and instead screen and process them humanely. Deportations and the border shutdown will not make our communities healthier and safer. It is just another way to shut the door on people seeking safety. We should all be #SafeAndTogether, so let's continue to advocate for those who are separated."
Sign our petition here!
Central America Faces Coronavirus While Deportations Are in the Balance
Lisa Haugaard, Latin America Working Group, March 20, 2020
"As the COVID-19 pandemic affects the Americas, we need to keep a close watch on how governments serve and protect their people.  We also need to keep an eye on ways that governments take advantage of emergency measures for repression or corruption—or use it to further an anti-immigrant agenda."
US Enforcement
A Closed Border, Dashed Hopes and a Looming Disaster
Azam Ahmed, Miriam Jordan, and Kirk Semple, New York Times, March 21, 2020
"In practice, the United States will deport anyone caught crossing between official ports of entry, including those hoping to turn themselves in, denying them access to asylum and potentially sending them back into harm's way… The Trump administration decision will also put an end, at least for now, to the hopes of asylum seekers who want to legally enter the United States at official border crossings. That includes thousands who have been waiting, some for months, for the chance to present themselves."
Legal immigrants at risk of losing status during coronavirus pandemic
Rafael Bernal, The Hill, March 26, 2020
"A main concern for immigration attorneys are foreign nationals whose work permits are about to expire, whether they plan to request an extension or leave the country. USCIS, a largely paper-based organization, has suspended in-person service until at least April 1 to protect its staff, contractors and prospective applicants from contagion."
Living with COVID — in an Immigration Jail
Naureen Shah and Andrea Flores, ACLU, March 25, 2020
"But people in government custody — including the 37,000 immigrants held in immigration jails and prisons throughout the country, and thousands more held near the border — don't have these options.  They are being held in deadly conditions. That is why in addition to calling on public officials to downsize prisons and jails in the criminal legal system, the ACLU is calling on the government to utilize all available options to reduce the number of people in immigration detention."
La cuarentena del Triángulo Norte no logra detener los vuelos de deportados
Gabriela Cáceres, Jaime Quintanilla y Nelson Rauda, El Faro, 25 de marzo de 2020
"Al igual que Guatemala y Honduras, que levantaron la veda a los vuelos de deportados provenientes de Estados Unidos entre el 18 y 20 de marzo, El Salvador recibió el primer vuelo de deportados este martes".
'We live paycheck to paycheck': Undocumented workers struggle as economy grinds to a halt
Jacqueline Garcia and Jackie Botts, Cal Matters, March 24, 2020
"More than 2 million undocumented workers, who do not quality for many state and federal benefits, are among the hardest hit Californians as the economy is battered by the coronavirus pandemic. Congress is working to provide an emergency relief fund that could benefit U.S. citizens and permanent legal residents. However, undocumented workers are not included."
Deportations Are Making the Coronavirus Crisis Worse
Gaby del Valle and Jack Herrera, The Nation, March 23, 2020
"As cities across the world lock down and countries enact emergency travel bans, the United States has continued deporting immigrants at a steady rate. Though ICE released a statement explaining that it would cut back on some arrests and prioritize 'public safety' risks, the deportation machine is still up and running. Court hearings for non-detained immigrants have been put on emergency hold, but—despite an unprecedented outcry from immigration lawyers, judges, and even ICE personnel—removal proceedings for detained immigrants, like Héctor, continue daily."
Rapes, murders … and coronavirus: the dangers US asylum seekers in Mexico must face
Alexandra Villarreal, The Guardian, March 23, 2020
"Like countless others across the world, the Guatemalan asylum seeker is wary of contracting the coronavirus. But he's also worried about going outside after Mexican municipal police detained him illegally, then tortured and robbed him earlier this month, according to him and his attorney."
U.S. postpones court hearings for asylum-seekers in Mexico over coronavirus
Camilo Montoya-Galvez, CBS News, March 23, 2020
"The Justice Department said hearings for migrants in the so-called "Remain in Mexico" program that were initially slated to take place before April 22 would be postponed. A spokesperson for the Executive Office for Immigration Review (EOIR), the Justice Department branch that oversees the nation's immigration courts, said the decision will ensure asylum-seekers in the program can have their 'day in court,' while safeguarding the health of migrants, officials and U.S. citizens."
Some Central Americans Awaiting U.S. Asylum to Be Allowed Legal Entry to Mexico
Reuters, New York Times, March 22, 2020
"'We're evaluating the regular admission of some nationals from El Salvador, Honduras and Guatemala who are presented to the Mexican immigration authorities, in order to minimize crowding at U.S. Border Patrol stations,' the ministry said in a statement. Fewer than 100 people per day will be allowed into Mexico, it added."
There is No Good News
Michael Seifert, Views from Alongside a Border, March 22, 2020
"Last week, however, Mexican immigration agents began intercepting the children who were crossing the bridge. The agents would take the children back into Matamoros, where they were turned over to the Mexican equivalent of Child Protective Services. This was a horrifying eventuality for the parents of the children, for the reclamation of their children required reams of documentation, much of which had not survived their journey across Central America and Mexico."
A 42-Year-Old Mexican Man Has Died In ICE Custody
Hamed Aleaziz, BuzzFeed News, March 22, 2020
"The death is the 10th since October, when the 2020 fiscal year began. The agency had eight deaths in custody in the entire 2019 fiscal year."
I Used to Run ICE. We Need to Release the Nonviolent Detainees.
John Sandweg, The Atlantic, March 22, 2020
"The large-scale release of detainees doesn't mean that undocumented immigrants should get a free pass either. Those who are released can and should continue to go through the deportation process. ICE can employ electronic monitoring and other tools to ensure their appearance at mandated hearings and remove them from the country when appropriate."
DHS: Pandemic Measures Cut Illegal Border Crossings by Half
Colleen Long and Maria Verza, Associated Press, March 22, 2020
"Meanwhile, there was growing concern on the Mexican side of the border that the number of migrants stranded there would only increase, with shelters already at capacity. 'We have 300 people in the shelter and we can no longer take it. We have been a week without the United States asking for people and if they don't ask, we are going to be overcrowded,' said Héctor Joaquín Silva, director of the Senda de Reynosa shelter, which borders McAllen, Texas."
Llegan 92 deportados de EEUU en medio de emergencia por COVID-19
Proceso Honduras, 22 de marzo de 2020
"Según las autoridades, esta acción migratoria, es parte de las actividades operativas programadas con anterioridad a las disposiciones decretadas durante la crisis sanitaria que afronta el país".
ICE said it won't deport people for seeking medical care. Immigrants won't believe them.
Jaclyn Kelley-Widmer, Washington Post, March 21, 2020
"Nevertheless, undocumented immigrants fear stepping into a hospital, worrying that their status will be identified and tracked — if not now, then later. They are not likely to believe such reassurances, given the past several years of ever-increasing monitoring and enforcement even of sympathetic noncriminal immigrants."
13 changes to the US immigration system during the coronavirus pandemic
Priscilla Álvarez, CNN, March 20, 2020
"Against the backdrop of the outbreak, the Trump administration is also trying to move forward with some of its most restrictionist policies that have struggled to be put into practice, including blocking entry to asylum seekers."
U.S.-Mexico border humanitarians scramble to curb coronavirus
J.D. Long-García, America Magazine, March 20, 2020
"'We're really trying to do all we can to mitigate the risk as much as possible,' Father Carroll said. 'We count on a lot of volunteers, so we'll have to do what we can and plan accordingly. But we're going to continue to serve the migrants here.'"
En qué consiste el cierre de la frontera con México y Canadá para todos los viajes no esenciales
Jorge Cancino, Univision Noticias, 20 de marzo de 2020
"Las medidas de emergencia anunciadas este viernes 'afectarán principalmente a las personas que llegan a la frontera en busca de asilo', dijo Alex Gálvez, un abogado de inmigración que ejerce en Los Ángeles, California. 'No los van a dejar pedir el beneficio. Los van a regresar a México', agregó".
Mexican Enforcement
Mexico suspends refugee requests as coronavirus cases climb to 405
Reuters, March 24, 2020
"Mexico temporarily halted the processing of asylum requests from Tuesday, its refugee agency said, the latest measure in North America aimed at stopping the spread of coronavirus that have also limited access to asylum. Migration authorities will resume processing applications on April 20, Mexico's refugee agency COMAR said, in line with a government order for various public offices to halt certain functions."
Activistas mexicanos denuncian violencia contra inmigrantes que protestan por temor a coronavirus
Julia Love, Reuters, 25 de marzo de 2020
"Docenas de migrantes en el centro de detención más grande de México, en la frontera con Guatemala, protestaron esta semana por temor a contraer el coronavirus en la instalación, algo que los defensores de derechos humanos han denunciado por mucho tiempo debido al hacinamiento y la falta de salubridad. La protesta chocó con una violenta represión por parte de la policía federal y la guardia nacional, según organizaciones mexicanas de derechos humanos".
CNDH llama a INM y SRE a repatriar a extranjeros varados en el país
La Jornada, 24 de marzo de 2020
"Por tales circunstancias, el INM se ha visto imposibilitado para ejecutar los procedimientos jurídicos migratorios para este grupo de personas, ya que no es viable retornar aquéllos migrantes a sus países de origen por las medidas de emergencia tomadas por sus respectivos gobiernos".
México debe implementar medidas para prevenir contagio de coronavirus en migrantes
Conexion Migrante, 24 de marzo de 2020
"Entre estas medidas que las organizaciones sugirieron están: el cese de las detenciones por razones migratorias; la liberación de todas las personas detenidas en estaciones migratorias y estancias provisionales; protección de personas en situación de calle; el acceso a servicios médicos; las acciones contra la xenofobia y discriminación; trámites de regularización, presentación para firmas y solicitudes de refugio".
Sprawling Mexican Border Camp Ill-Prepared for Coronavirus
Reuters, New York Times, March 22, 2020
"In the event of a suspected case, migrants will be instructed to stay in their tents as tests are sent to Mexico City for processing. Those who require hospitalization will be transferred about an hour away to the city of Reynosa, which has a similar supply of ventilators, Gonzalez De la Garza said. Migrants who test positive but do not need to be hospitalized will be instructed to remain in isolation. Health officials are exploring the possibility of designating a special shelter for them, he said."
Gobernadores piden apoyo para atender a los 25 mil migrantes en el norte de México por el coronavirus
Abel Domínguez, Conexion Migrante, 21 de marzo de 2020
"Para hacer frente al coronavirus Covid-19, los gobernadores de Coahuila, Nuevo León y Tamaulipas se reunieron para trabajar de forma coordinada e implementar medidas, adicionalmente, pidieron apoyo al gobierno de México para atender a los 25 mil migrantes que se encuentran en sus estados mientras esperan recibir asilo".
INM ampliará "capacidad de atención" en puntos fronterizos para recibir a migrantes deportados
Mathieu Tourliere, Proceso, 19 de marzo de 2020
"Las dependencias detallaron que ante la cancelación del programa con el que las autoridades estadounidenses deportan personas indocumentadas a México, el INM 'reforzará su capacidad de atención para recibir a los connacionales a través de diversos puntos de internación en la frontera norte del país'".
Root Causes 
Push to curtail activism continues in Guatemala
Jeff Abbott, Toward Freedom, March 24, 2020
"While the Constitutional Court's decision temporarily suspends the reform from being implemented, it now must go to a public hearing where supporters will present their arguments. A full decision will take time. In spite of the court's decision, Guatemala's conservative new President Alejandro Giammattei stated that the reform would become law, and that the court had made their decision too quickly."
Honduras's Deadly Water Wars
Jared Olson, The Nation, March 24, 2020
"Here, in the heart of Carlos Escaleras National Park, at the head of dozens of rivers, a deadly water conflict is playing out between the local oligarchy, intent on extracting as much value from this area as possible, and the residents of the valley's small villages, who depend on the rivers for much of their sustenance and livelihood."
Pregonar el coronavirus entre cerros y calles polvosas
Efren Lemus, El Faro, 24 de marzo de 2020
"Ahí, en las zonas rurales del país, los promotores tienen que lidiar con pobladores que no creen en la existencia de una nueva enfermedad, o con otros que están atemorizados por la desinformación que circula en las redes sociales. 'Hay gente que no cree (en el coronavirus) y me dicen que es un invento del gobierno. Otros están asustados porque han visto en las redes sociales que van a pasar aviones fumigando. Mi trabajo es no alarmarlos, insistir en la importancia de la prevención y pedirles que se informen por las vías oficiales, que no crean todo lo que ven en redes sociales'".
Incrementa persecución contra defensores y defensoras del sur de Honduras
Radio Progreso, 24 de marzo de 2020
"Para la coordinadora de la Asociación para una Ciudadanía Participativa (ACI-PARTICIPA), Hedme Castro, la judicialización de personas que le estorban al gobierno va en aumento. Dice que el Estado miró la oportunidad de aprovechar el toque de queda y el levantamiento de las garantías constitucionales para capturar de forma arbitraria a la luchadora de la zona sur".
Quién debe responder por los guatemaltecos expulsados de México y que son señalados en Tecún Umán de ser portadores de covid-19
Whitmer Barrera, Prensa Libre, 24 de marzo de 2020
"El alcalde de Ayutla San Marcos, Rubén Méndez, solicitó al gobernador departamental, Luis Carlos Velásquez, que los migrantes que México expulsa  y son trasladados en autobuses al Centro de Atención para retornados en la frontera de Tecún Umán sean llevados a otro lugar fuera del municipio por el temor de la población de que los connacionales sean portadores del covid-19".
Los tres probables escenarios en Honduras que plantea el CESPAD, en el contexto post MACCIH
Cespad, 24 de marzo de 2020
"El documento analiza la embestida que sufrió la Misión por parte de la clase política del país, afincada en su mayoría en el Congreso Nacional, y pone en perspectiva los probables escenarios en la lucha contra la corrupción que le espera a las y los hondureños, particularmente luego de que la MACCIH fuese desmantelada".
"Si logramos racionar el servicio de agua podríamos llegar hasta agosto"
El Pulso (Honduras), 24 de marzo de 2020
"Carlos Hernández, jefe de la División Metropolitana del Servicio Autónomo Nacional de Acueductos y Alcantarillados (SANAA), manifestó que la falta de lluvias en la capital y la prolongada sequía del año anterior ha dejado las represas sin agua por lo que los racionamientos serán más agudos".
No se podrá parar el COVID-19 sin proporcionar agua a las personas en situación de vulnerabilidad
OACNUDH, 23 de marzo de 2020
"'Para las personas más privilegiadas, lavarse las manos con jabón y agua limpia – la principal defensa contra el virus – es un gesto sencillo. Pero para algunos grupos en todo el mundo es un lujo que no pueden permitirse.'"
Ni "Toque de queda absoluto" ha reducido la violencia
El Pulso (Honduras), 23 de marzo de 2020
"Un total de 44 hondureños perdieron la vida de forma violenta en el país en la semana del lunes 16 al domingo 22 de marzo, pese a que la población debe estar en su casa por el "toque de queda absoluto" decretado por el Gobierno de la República para evitar contagios de Covid-19 la violencia no se detiene".
En tiempos de emergencia, la corrupción también mata
Wilson Sandoval, El Faro, 23 de marzo de 2020
"Lamentablemente, las emergencias y su sentido humano no implican cambios en los comportamientos y prácticas corruptas arraigadas culturalmente por décadas en las administraciones públicas, sino que, por el contrario, constituyen 'espacios de riesgo' que son reforzados por la flexibilidad con que se pueden llevar a cabo acciones que normalmente contarían con estándares más rígidos de evaluación y escrutinio, como lo son la contratación de bienes y servicios o la gestión y contratación de recurso humano".
Abogados advierten de posibles detenciones ilegales por la cuarentena
Nelson Rauda Zablah, El Faro, 22 de marzo de 2020
"El Gobierno reportó hasta la noche de este domingo 22 de marzo la detención de 269 personas por no acatar la medida de cuarentena domiciliar que el presidente Nayib Bukele anunció un día antes. La legalidad de estas detenciones ha sido una de las muchas dudas tras la cadena nacional donde se anunció la medida de encierro domiciliar para la prevención del Covid-19. Varios expertos aseguran que la detención de personas por transitar en la calle es una ilegalidad, ya que es el policía o el militar que realiza la detención quien juzga si esa persona respetó o no las disposiciones y las excepciones decretadas por el Gobierno".
Gobierno promete alimentos por 30 días a más de 3 millones de hondureños ante coronavirus
La Prensa, 21 de marzo de 2020
"El Gobierno hondureño anunció anoche que proporcionará alimentos a 3.2 millones de personas, aproximadamente un tercio de la población del país, para garantizar el aislamiento como principal medida sanitaria ante la pandemia de coronavirus".
A la pandemia se suma la corrupción en Honduras
Fernando Silva, Contra Corriente, 20 de marzo de 2020
"Entre la crisis sanitaria y social que ha creado la emergencia, el Consejo Nacional Anticorrupción (CNA) emitió un comunicado en el que plantea que esta emergencia puede ser «la coyuntura perfecta» para actos de corrupción".
ONU teme más violencia de género y pobreza para mujeres por covid-19
El Tiempo. 19 de marzo de 2020
"El aumento de la violencia hacia mujeres y niñas es una preocupación para ONU Mujeres, que prevé que esto ocurra ante 'el hecho de que el hombre no tenga acceso a fuentes de trabajo, tenga mayores frustraciones por el hecho de no poder proveer para su familia, y carezca de distracciones como el deporte', dijo Vaeza".
Actions, Alerts, Resources 
Americas at a Crossroads in Response to Coronavirus
Amnesty International, March 24, 2020
"People all over the Americas are concerned and expect governments to react decisively. We in Amnesty International also believe that authorities across the region must show leadership and they must do so by prioritizing human rights and by refraining from abusing their power in the middle of this emergency."
Responding to the COVID-19 Crisis While Protecting Asylum Seekers
Amnesty International USA, Doctors Without Borders/Médecins Sans Frontières USA, Human Rights First, Physicians for Human Rights, Refugees International, and Women's Refugee Commission, March 25, 2020
"Decisions relating to the COVID-19 pandemic should be driven by science and public health expertise. We urge Congress and the administration to urgently take the steps we have outlined above. Our organizations are prepared to discuss these recommendations in greater depth to find solutions that respect the right to seek asylum."
P.S. Do you know of someone who might be interested in receiving the Migrant News Brief? Tell them to email lalvarez@lawg.org