A compilation of recent top articles and reports related to issues of U.S. immigration and enforcement policy and migration from Central America and Mexico (articles in English and Spanish). Please feel free to send us recommendations or requests for upcoming news briefs: lalvarez@lawg.org.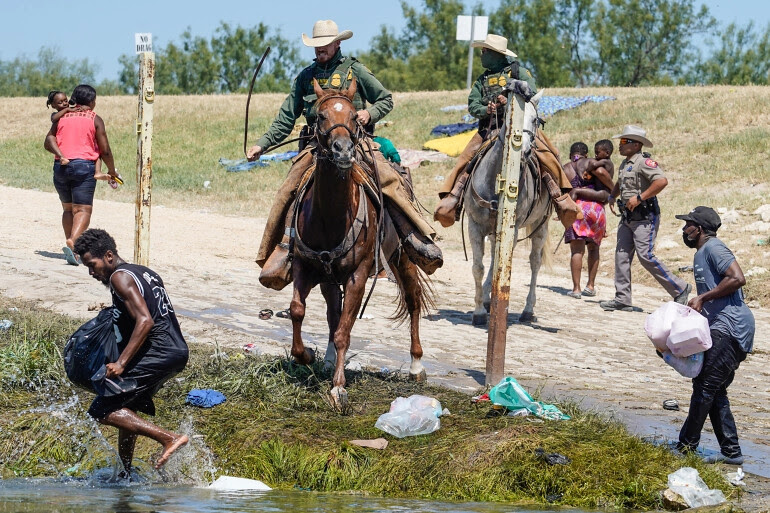 U.S. Enforcement
Biden administration tries again to end Trump-era 'Remain in Mexico' migrant policy
Priscilla Alvarez, CNN, October 29, 2021
"The policy forced non-Mexican migrants to stay in Mexico until their immigration court date in the US. It was suspended at the beginning of President Joe Biden's term and formally terminated months later. But in August, a federal judge in Texas said that the Biden administration had violated federal law in how it went about unwinding the program and required it be restored."
'A Lot Of Trauma': Haitian Families Deported From Border Struggle To Recover
Rowaida Abdelaziz, Huff Post, October 28, 2021
"Marinise Sinais Cedieu keeps replaying in her head what happened to her in Del Rio, Texas: being handcuffed in front of her 3-year-old son, the screams of another man whose handcuffs were too tight, going a week without a hot meal. Cedieu, a Haitian mother of two, came to the border hoping to pursue a better life for her family in the United States after first moving to Chile in 2016. Instead, she found herself camped out in frightful conditions for five days, hoping to be granted entry."
Opinion | The US Needs a Hemispheric Migration Strategy
Andrew Selee, New York Times, October 27, 2021
"While U.S. attention on immigration has been focused mostly on the large number of Central Americans arriving at the southwestern border over the past few years, the biggest migration flows in the hemisphere are actually happening farther to the south. As the arrival of thousands of Haitians in Del Rio, Texas, last month showed, the United States may well start seeing many more migrants from countries outside the Northern Triangle nations of Central America."
Activists demand ICE release transgender, HIV-positive detainees
Michael K. Lavers, Washington Blade, October 27, 2021
"Ckatallea on Wednesday told the Washington Blade that U.S. Immigration and Customs Enforcement officials placed her in a pod with 70 men at a privately-run detention center in Florence, Ariz. She also said personnel at another ICE detention center in Santa Ana, Calif., ridiculed her because of her gender identity and forced her to strip naked before she attended hearings in her asylum case."
Opinion | 'Remain in Mexico' may be returning, but Biden must not repeat history
Washington Post, October 27, 2021
"Now the courts are forcing the Biden administration, which tried to end the Remain in Mexico policy, to resurrect it. That may happen in some limited form over the next month or so. If it does, and if migrants are again compelled to pitch tents at the border for months at a time as their asylum applications are assessed, U.S. officials will face a test: Will they again allow camps to become teeming, dangerous tent cities?"
The Border Isn't Open. Just 1 in 3 People at the Border Last Year Could Access the Asylum Process.
Aaron Reichlin-Melnick, Immigration Impact, October 26, 2021
"Opponents of President Biden quickly jumped on the news to renew claims that the border is somehow open. But focusing only on that one number masks a fundamental truth: border security is tighter today than it was just two years ago under President Trump. The Biden administration has carried out nearly 800,000 expulsions under Title 42 in the last nine months. And 1.7 million apprehensions does not mean that 1.7 million individual people have been detained while trying to enter the U.S."
Reportan cifra récord de migrantes salvadoreños detenidos en la frontera sur de EE. UU. en 2021
Voz de América, 25 de octubre de 2021
"Un total de 95.930 salvadoreños fueron detenidos en la frontera sur de Estados Unidos por la Oficina de Aduanas y Protección Fronteriza ​(CBP por sus siglas en inglés) al cierre del año fiscal 2021. Según CBP, la cifra que corresponde al año fiscal 2021 que finalizó en septiembre de 2021, muestra que a diario fueron detenidos un promedio de 260 salvadoreños al intentar cruzar la frontera sur de manera irregular, casi 8.000 por mes".
The Migration Journey Continues Despite US Border Policy
Jasmine Aguilera, Time, October 25, 2021
"Title 42 expulsions accounted for more than one million of the 1.7 million enforcement actions during FY2021, meaning most of the migrants who have arrived at the U.S.-Mexico border have been immediately denied entry to the U.S. FY2021 also set the record for most border enforcement encounters by U.S. Border Patrol Agents, according to CBP data. Border Patrol conducted nearly 1.66 million enforcement actions in FY21, surpassing the previous record high of nearly 1.62 million in 1986."
Record number of families from Brazil detained at U.S.-Mexico border
The Rio Times, October 25, 2021
"What used to be almost exclusively Mexican migration changed in 2019 with the amount of people from Honduras, El Salvador and Guatemala. Poverty and violence were the main drivers. Another main difference was the strategy of traveling as a family, which increases overall numbers," says Harvard College of Education professor Gabrielle Oliveira. Traveling as a family theoretically improves the chance of staying in the U.S., according to the professor."
EE.UU. detuvo a más a de 1.7 millones de migrantes en la frontera con México
Lopez Doriga Digital, 23 de octubre de 2021
"Estados Unidos arrestó entre octubre de 2020 y septiembre de este año a más de 1.7 millones de migrantes que cruzaron la frontera con México, una cifra no vista en las últimas décadas, según datos difundidos por la Oficina de Aduanas y Protección Fronteriza (CBP). CBP cifró en un millón 734 mil 686 el total de detenciones en la frontera al cierre del año fiscal 2021, lo que supera el registro de 1986, cuando 1.69 millones de personas fueron arrestadas en la frontera".
Caravan of Mothers of Disappeared Migrants join with Reps. Grijalva, Johnson at U.S. Capitol
Pax Christi USA, October 19, 2021
"On October 19th outside the U.S. Capitol building, the Caravan of Mothers of Disappeared Migrants were joined by Reps. Hank Johnson and Raul Grijalva for a press event. The Caravan of Mothers of Disappeared Migrants from Central America, after searching for their relatives at the U.S.-Mexico border, shared their message with policy makers in Washington, D.C., giving their first-hand accounts of the tragic consequences which accompany forced migration and how U.S. foreign policy in Central America is a root cause driving such migration."
It's time for countries in the Americas to reach an accord to manage migration together
Dan Restrepo, The Dallas Morning News, October 17, 2021
"Even before the economic wreckage of the COVID-19 pandemic, which increased poverty by 22 million new poor and 8 million new extremely poor in 2020 alone, according to the United Nations, the movement of populations across Latin America and the Caribbean was intensifying. Hundreds of thousands of Haitians have left Hispaniola since January 2010, according to the Migration Policy Institute, many for countries in South America."
Mexican Enforcement
Retos en la atención a migrantes que se encuentran en México
Rita M. Robles Benítez, Justicia en las Americas, 28 de octubre de 2021
"De manera constante, tanto gobiernos como medios de comunicación, presentan a los procesos migratorios como una crisis y por lo tanto como un problema, pero esto no es necesariamente cierto. En México la migración ha estado presente a lo largo de su historia, tanto como país expulsor, como país receptor y de tránsito, la diferencia radica en la forma en que han sido atendidos los flujos migratorios en los distintos momentos".
México actuará con prudencia frente a caravana: Ebrard
Yazmin Veloz, La Razón, 26 de octubre de 2021
"Queremos que quede claro que es un engaño cuando les dicen a los migrantes que llegando a la frontera con México, los van a dejar pasar a Estados Unidos, no los van a dejar pasar, no es cierto", aclaró el canciller. También dijo que ya se trabaja en conjunto con el Instituto Nacional de Migración (INM) y el gobierno de Estados Unidos para determinar el plan que se tomará para atender a los migrantes, pero que aún no hay nada establecido, por lo que actuarán con cautela, buscando siempre el respeto a los derechos humanos de las personas".
Tapachula, Mexico, Is an Open-Air Immigration Prison for the U.S.
Joe Penney, New Republic, October 26, 2021
"Waiting along with the Haitians are significant communities of Hondurans, Cubans, Venezuelans, Guatemalans, Dominicans, and more. About 800 migrants are being held in the notorious Siglo XXI detention center, but most of them are in an open-air prison bound by the city limits: Migrants must be granted refugee status in Mexico to leave Tapachula, and that onerous process can take months."
Policía vigila el avance de caravana
El Informador, 25 de octubre de 2021
"La nueva caravana conformada por unos seis mil migrantes, en su mayoría de países centroamericanos y de Haití, retomó ayer su marcha por el estado de Chiapas, pero avanza a paso lento y bajo estricta vigilancia de agentes de migración y de la Guardia Nacional. En su segundo día de recorrido, todavía muy cerca de la frontera con Guatemala, los migrantes buscan completar unos 15 kilómetros, distancia que recorrieron el sábado, y mantienen firme su propósito de llegar a la Ciudad de México y posteriormente dirigirse hacia Estados Unidos."
Under surveillance, migrant caravan moves through southern Mexico
La Prensa Latina, October 24, 2021
"A new caravan made up of some 6,000 migrants, mostly from Central American countries and Haiti, resumed its slow march through the southern Mexico state of Chiapas on Sunday under the strict surveillance of immigration officers and the National Guard. On their second day of travel, still very close to the border with Guatemala, the caravan sought to cover about 15 kilometers, the distance they traveled on Saturday, and remained firm in their intention to reach Mexico City, and later the United States."
Interceptan una caravana de 47 autos compactos con cientos de migrantes en México
Telemundo, 24 de octubre de 2021
"Una caravana de más de 40 autos compactos que trasladaban cientos de inmigrantes fue detenida por las autoridades mexicanas en la noche del sábado en Tamaulipas, estado colindante con Texas, en lo que se teme sea un posible caso de tráfico de personas, según informó el Ejercito Mexicano".
Migrant caravan slows through southern Mexico and is under the surveillance of the National Guard
Juan Manuel Blanco, The Saxon, October 24, 2021
"The new caravan made up of some 6,000 migrants, mostly from Central American countries and Haiti, resumed its march through the state of Chiapas, in southern Mexico, but proceeds at a slow pace and under strict surveillance of migration agents and of the National Guard. On his second day of travel, still very close to the border with Guatemala, the migrants seek to complete about 15 kilometers, the distance they traveled on Saturday, and remain firm in their intention to reach Mexico City and then head towards USA."
Migrants change their course, leave Chiapas bound to Mexico City
Yucatan Times, October 23, 2021
"From five in the morning hundreds of migrants of different nationalities joined those who spent the night in the Bicentennial Park to start their march for Freedom, Dignity, and Peace towards Mexico. The girls, boys, women, and men began to arrive at the meeting point little by little, some by taxi, others by buses, while the rest did it on foot."
Root Causes
'We can't live like this': climate shocks rain down on Honduras's poorest
Nina Lakhani, The Guardian, October 28, 2021
"Most inhabitants fled to higher ground after the category 4 Hurricane Eta made landfall in early November 2020, but fisherman Rosendo García stayed behind, hoping to safeguard the family's home and animals. After a ravine on the opposite side of the village also flooded, there was no way out. Inside his single-storey brick house, the water quickly rose from knee-deep to chest high. "It was so fast, like milk when it boils," said García, 55."
COVID infections, deaths dropping across the Americas -health agency
Anthony Boadle, Reuters, October 27, 2021
"COVID-19 is slowly retreating across most of North, Central and South America, the Pan American Health Organization (PAHO) said on Wednesday, reporting that last week the continent's death and infection figures were the lowest in over a year. Many of the larger Caribbean islands are seeing downward trends, including Cuba, the site of a major months-long COVID-19 outbreak."
Honduran leftist holds big lead ahead of vote, poised to make history
Reuters, October 27, 2021
"Leftist presidential hopeful Xiomara Castro has surged to the front of the pack ahead of next month's election in Honduras, a opinion poll released on Wednesday showed, after the former first lady won the backing of former competitors. If she can secure more votes than any other candidate on Nov. 28, the 62-year-old Castro will become the Central American nation's first female president."
How Climate Change and Gang Violence Intersect in Honduras
Mark Scialla, The Nation, October 27, 2021
"Last November, Sara looked at the storm-damaged wreckage of her home near San Pedro Sula in Honduras and considered quitting her job and leaving for the United States. Her boss wanted her back at work and didn't care that her house was in ruins—or that the businesses she was supposed to shake down had been shuttered. Two Category 4 hurricanes within two weeks had devastated the country. The gang was losing money and her boss started to blame soldiers like Sara."
Guatemalan town locked in battle against nickel mine
France 24, October 28, 2021
"El Estor's subsistence fishermen, mainly of the Mayan Q'eqchi' indigenous group, say the Fenix mine is polluting Lake Izabal, diminishing stocks of fish that were abundant just a generation ago. The mine's owners deny the allegation, saying adequate environmental protections are in place. Frustrated, residents mounted a protest against the mine on Sunday that was put down by security forces using tear gas."
No one left: climate change fuels Guatemalan migration
France 24, October 26, 2021
"Two powerful hurricanes that struck the north of the Central American country in 2020 decimated cardamom crops, leaving thousands of indigenous people destitute. "Everyone suffered because their crops were left submerged in water," Yat told AFP from Cerro Azul, a tiny village of barely 500 people at the foot of the mountains in Quiche department. Hurricanes Eta and Iota ripped through this region in October and November 2020 leaving 200 people dead and massive damage throughout Central America."
Bitcoin but no water for this Salvadoran town
Julia Gavarrete, El Faro, 26 de october de 2021
"In Berlín in the Salvadoran department of Usulután, a privileged few families get water once a month, supplied by the community itself. People who live in the municipality's higher elevations can buy water for $45 to $60 dollars per month, roughly two weeks' pay. Residents are unsettled by plans to expand geothermal energy plants to provide power to mine Bitcoin."
Casos de COVID-19 aumentan a 374 mil 569 al confirmarse otros 421 contagios
Jorge Sierra, Proceso Digital, 25 de octubre de 2021
"Hasta el 22 de octubre, se registraban 6 millones 772 mil 732 vacunados, de los cuales 4 millones 088 mil 014 tenían primera dosis y 2 millones 684 mil 718 segunda dosis, apuntó el Sinager en un comunicado. Para diagnosticar los nuevos casos, el Laboratorio Nacional de Virología efectuó 3 mil 232 pruebas, de las que 421 resultaron positivas".
Eta y Iota desplazaron a más de 937 mil personas
Fatima Romero Murillo, La Prensa, 25 de octubre de 2021
"Cada año, millones de personas se ven obligadas a abandonar sus hogares debido a inundaciones, tormentas tropicales, sequías, derretimiento de glaciares, terremotos y otros peligros naturales. Muchos encuentran refugio en su propio país, pero algunos tienen que trasladarse incluso al extranjero.La mayoría de los nuevos desplazamientos provocados por desastres en 2020 se registraron en Asia oriental y el Pacífico y Asia meridional, como en años anteriores".
Piden transparencia y publicidad en audiencia de revisión de medidas de los defensores de Guapinol
Criterio, 25 de octubre de 2021
"Al menos diez organizaciones defensoras de derechos humanos solicitaron al Juzgado de Trujillo, en el departamento de Colón, garantizar el principio de publicidad penal y debido proceso en la audiencia de revisión de medidas de los ocho defensores de Guapinol, a celebrarse este martes 26 de octubre, a la 1:15 de la tarde".

Ahora que Honduras integra el Consejo de DDHH de la ONU, deberá liberar a ambientalistas de Guapinol – Defensores en Linea
Marc Allas, Defensores en Línea, 25 de octubre de 2021
"El régimen de Juan Orlando Hernández está tratando de utilizar la reciente designación de Honduras para integrar el Consejo de Derechos Humanos de las Naciones Unidas, como un logro y un reconocimiento internacional por su accionar en este delicado tema. Sin embargo, el partido Nacional que ha gobernado ilegítimamente el país, durante 12 años, ha dejado una amplia estela de violaciones a los derechos humanos".
CIDH cuestiona labor del Estado Salvadoreño ante desapariciones forzadas
Mónica Campos, Gato Cerrado, 25 de octubre de 2021
"El Estado salvadoreño fue interpelado sobre su labor para dar atención y respuesta a las víctimas de desapariciones en una audiencia pública realizada por la Comisión Interamericana de Derechos Humanos (CIDH). Sobre todo porque aún sigue sin cumplir todas las recomendaciones que realizó la CIDH al Estado tras su visita in loco a finales de 2019".
Bukele's Party Now Has a Clone in Guatemala
Roman Gressier y Gabriel Labrador, El Faro, October 25, 2021
"José Luis Araneda Cintrón, a 27-year-old Guatemalan lawyer, began the process before Guatemala's Supreme Electoral Tribunal (TSE) on July 2, 2021 to found a political party called "Nuevas Ideas," the same name as that of President Nayib Bukele in El Salvador. The new party's cyan logo is identical to that of the Salvadoran party. Araneda posed for a picture with Bukele in San Salvador, in Casa Presidencial, on the day of the 2021 Salvadoran legislative elections."
El cambio climático ocasionará más migraciones y conflictos internacionales
Christopher Flavelle et al, The New York Times, 25 de octubre de 2021
"El Departamento de Seguridad Nacional (DHS, por su sigla en inglés), que incluye a la Guardia Costera de Estados Unidos, advirtió que a medida que el hielo se derrita en el océano Ártico, se incrementará la competencia por el pescado, los minerales y otros recursos. Otro informe advirtió que, para 2050, es probable que decenas de millones de personas sean desplazadas por el cambio climático, incluyendo hasta 143 millones de personas en el sur de Asia, el África subsahariana y América Latina".
Hay que fortalecer la esperanza en Honduras, dice representante de la ONU
Proceso Digital, 24 de octubre de 2021
"Este año vamos a firmar un nuevo marco de cooperación para el período 2022-2026, muy enfocado alrededor de fortalecer la esperanza en el país, en sus instituciones, mirar las causas estructurales de la pobreza, la desigualdad, de la migración y también enfocarse en la persona, no dejar a nadie atrás, el enfoque en los grupos más excluidos en el país», subrayó Shackelford".
Gang shootout in northern Mexico leaves four dead – officials
Jerusalem Post, October 24, 2021
"A car chase and shootout between gang members and law enforcement near Mexico's northern border has left three members of the powerful Gulf Cartel dead along with one bystander, officials said on Saturday. The incident began on Friday evening in the border city of Matamoros, when military and police officers attempted to halt several suspicious vehicles, officials from the northern state of Tamaulipas said in a statement."
We Visited the Impoverished Homes Outside Amazon's Tijuana, Mexico Warehouse
Thomas Pallini, Business Insider, October 23, 2021
"A married couple who spoke to Insider from inside their gated yard told Insider that the media attention had surprised them. Amazon was the only business in the industrial zone that seemed to be of any interest to the media, they said. "It's good for the community because it brings jobs," local resident Rosano Ochoa Builon said. "The factory is welcome." Her husband said he was planning to apply to work at Amazon."
Following protests, El Salvador restricts mass gatherings
AP News, October 21, 2021
"Following a series of protests against El Salvador's government, the legislature dominated by President Nayib Bukele's party has banned mass gatherings to prevent the spread of COVID-19 — but exempted sporting and cultural events. That apparent contradiction led opposition activists to accuse Bukele of banning protests while leaving other potential super-spreader events untouched."
"Este país me ha golpeado tanto que ya no tengo nada que cuidar"
Gerson Vichez, FACTum, 20 de octubre de 2021
"Para conocer la prehistoria de Lady Drag hay que remontarse a 2007. Su primera versión tenía por nombre Lady Evance Versace Garuch. Y su debut ocurrió durante un concurso de belleza de Scape, famosa discoteca LGTB del país. Tras semanas de competencias, Lady Evance se coronó como reina y con ello inició un año de presentaciones. La polémica nunca estuvo ausente. Según Marvin, en aquel momento, el transformismo estaba enfocado en lo estereotípico de los roles femeninos y él rompió con esa tradición".
Following protests, El Salvador restricts mass gatherings
AP, October 21, 2021
"Following a series of protests against El Salvador's government, the legislature dominated by President Nayib Bukele's party has banned mass gatherings to prevent the spread of COVID-19 — but exempted sporting and cultural events. That apparent contradiction led opposition activists to accuse Bukele of banning protests while leaving other potential super-spreader events untouched."
Indigenous Peoples Like Mine Are Fighting for Our Homelands – FPIF
Miriam Miranda, Foreign Policy in Focus, October 11, 2021
"On this Indigenous Peoples' Day, I want to tell you about my people, the Garifuna. We're an Afro-Indigenous people, descended from Arawaks and Africans. Our ancestral territory spans the Caribbean border of Central America. Latin American and Caribbean communities like ours are rarely noticed in U.S. media — except when we migrate. In summer 2021, U.S. Vice President Kamala Harris came to Central America and told would-be migrants: "Do not come."
Actions, Alerts, and Resources
US Records Show Physical, Sexual Abuse at Border
Human Rights Watch, October 21, 2021
"Newly obtained United States government documents detail over 160 internal reports of misconduct and abuse of asylum seekers at the hands of US officials, Human Rights Watch said in a report released today. The documents report abuse by Customs and Border Protection (CBP) officers, Border Patrol agents, and Immigration and Customs Enforcement (ICE) officials, primarily between 2016 and 2021."
A Guide to Title 42 Expulsions at the Border
American Immigration Council, October 15, 2021
"The United States has long guaranteed the right to seek asylum to individuals who arrive at our southern border and ask for protection. But since March 20, 2020, that fundamental right has been largely suspended. Since that date, both migrants seeking a better life in the United States and those seeking to apply for asylum have been turned away and "expelled" back to Mexico or their home countries."
WWD recommendations
Welcome with Divinity, October 2021
"The #WelcomeWithDignity Campaign urges the U.S. government to welcome families, children,
and adults seeking refuge in the United States with care and humanity by building an asylum
system that is accessible, fair, humane, effective, and easier to navigate. This must include
people trying to request protection at the U.S. border, whether at or between formal ports of entry."

An Oversight Agenda for Customs and Border Protection: America's Largest, Least Accountable Law Enforcement Agency
Sarah Turberville, Chris Rickerd, POGO, October 12, 2021
"The nation's largest law enforcement agency, U.S. Customs and Border Protection (CBP), is also its least transparent and accountable. The need for oversight and reform is pressing: Along the border, there have been numerous examples of CBP encounters leading to civilian deaths. "When Border Patrol's tactical unit deployed to Portland in 2020 and was infamously recorded spiriting a protester away in an unmarked van," the country's interior saw first-hand what border communities have experienced for decades: a stunning contempt for any constitutional protections that interfere with CBP's security-first mission."
Organized Crime and Violence in Mexico
Justice in Mexico: Department of Political Science & International Relations at UC San Diego, October 2021
"This report focuses on trends in organized crime and violence in Mexico, which have been enormous concerns to U.S. and Mexican authorities and the general public in both countries the past few decades. For ten years (2009-2018), this report was entitled Drug Violence in Mexico, because of the dramatic increase in violence associated with Mexican drug trafficking organizations. However, in 2019, the authors modified the title and scope of the report in an effort to more accurately reflect the significant changes that have occurred in the dynamics Mexico's public security situation, as the nature of organized crime and violence in Mexico has evolved and become more complex."
The Deadly Digital Border Wall
Mijente, Just Futures Law, & and No Border Wall Coalition, October 2021
A "digital border wall" has been steadily built along the U.S.-Mexico border for the last four presidential administrations, overseen by the Department of Homeland Security (DHS) and supported by Democrats and Republicans alike. The Biden administration plans to increase this digital border wall funding, marketing it as a "gentler" or "smarter" alternative to Trump's border wall. But these technologies are an extension of the Trump administration's border infrastructure buildup, not a break with it."
* The Migration News Brief is a selection of relevant news articles, all of which do not necessarily reflect the viewpoint of the Latin America Working Group.
P.S. Do you know of someone who might be interested in receiving the Migrant News Brief? Tell them to email lalvarez@lawg.org